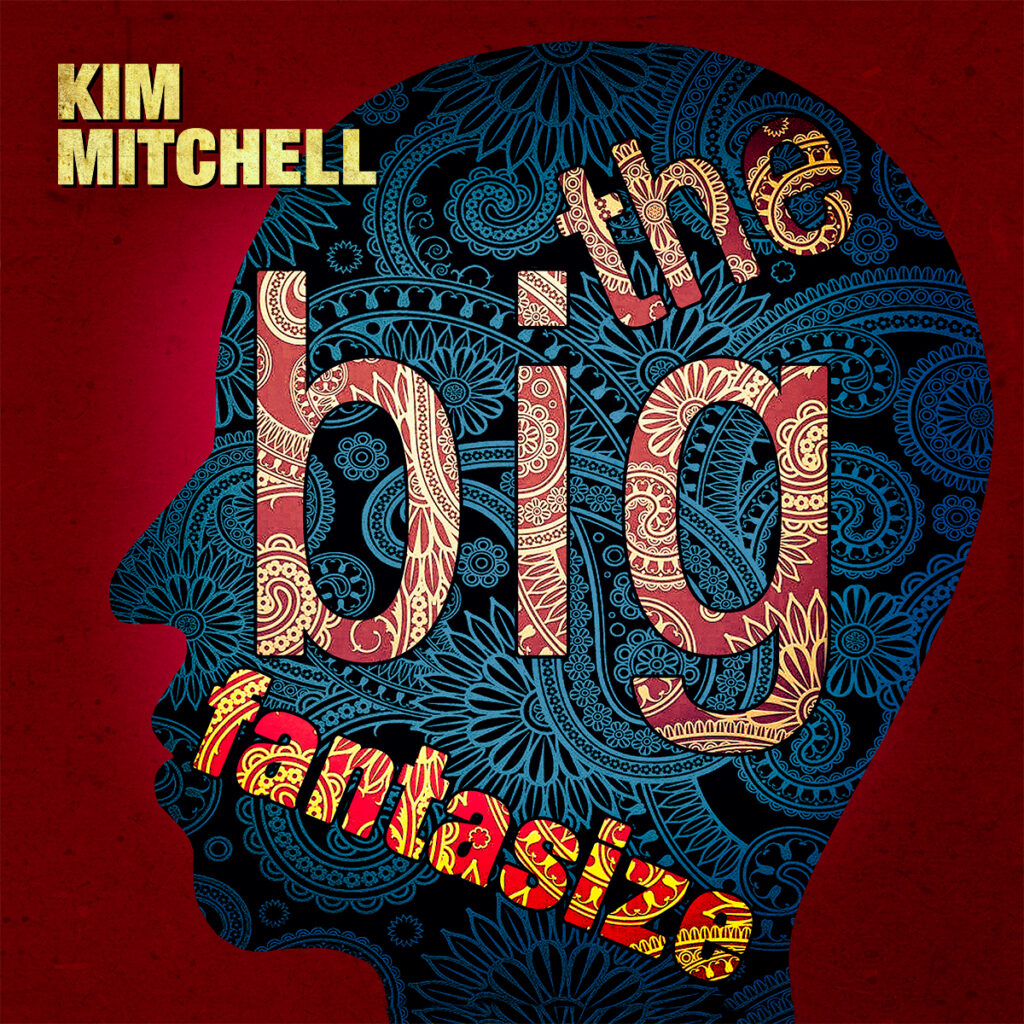 THE BIG FANTASIZE coming Nov 13!
"It's like that classic car that's been in the garage for a while – the one you're going to strip down and restore 'cause you know there's something special there."
That's how Kim Mitchell thought of The Big Fantasize, his latest studio album, before finally rolling up his sleeves with co-producer and close friend Greg Wells (Keith Urban, Adele, Taylor Swift) and vibing it up together in Wells' Los Angeles studio. Turns out there was something pretty sweet hiding in there …
The Big Fantasize marks the Canadian music icon's eighth studio album – plus five as the leader of pioneering rockers Max Webster – and his first since 2007's Ain't Life Amazing. But where its predecessor was a fiery and fierce rock album anchored by big riffs and bigger swagger, The Big Fantasize is a more dynamic and musically expansive effort that perfectly encapsulates Mitchell's prowess as a pure and compelling songwriter. (In fact, he is soon to be inducted into the Canadian Songwriters Hall of Fame, joining fellow inductees like Leonard Cohen, Gordon Lightfoot, and Neil Young.)
"This is a side of myself that Greg thought wasn't explored as much in the past, but really represented where I'm at right now creatively," shares Mitchell. "I was onboard with Greg's suggestion as it's still rooted in rock and roll but covers a lot more musical ground, and that's been really rewarding for me."
Of course, this is a man whose wizardry on an overdriven six-string has propelled his success since first emerging with Max Webster in the early '70s. Mitchell went solo a decade later, dropping his heralded debut Akimbo Alogo in 1985 and earning international acclaim with the classic "Go for a Soda." He's been doing his "Rock and Roll Duty" ever since, amassing an enviable pile of platinum and gold albums, major awards, and high-profile headlining sets as a beloved staple of the Canadian music scene. Classic hits like "Patio Lanterns," "Easy to Tame," "Rockland Wonderland," and "All We Are" remain important pieces of the Canadian musical landscape to this day.
A few years ago, Wells – who actually did a stint as Mitchell's keyboardist in the '80s – was up for a visit from his adopted home of L.A. With no set agenda, Mitchell handed him a USB drive of demos on his way out the door. Weeks, then months passed without a word.
"All of a sudden, in the middle of the night, I got a notification, and Greg's message was just lit," Mitchell recalls with a chuckle. "He said, 'This stuff's great! Please come to Los Angeles and let's record it.'"
It's easy to hear why even a Grammy-winning hitmaker would be excited by the potential of these nine tracks. The album's vocal hooks are abundant and Mitchell's mastery of his instrument is still on full display, though not right at the forefront; instead, the guitar playing serves the songs first, sitting in perfect harmony within these rich, musically expansive arrangements.
The sanguine lead single "WISHES" is very representative of the whole – an ethereal and enveloping soundtrack to a slow dance under the stars. "The song sort of found me," Mitchell muses, explaining that the lyrics come from a poem he happened upon years ago while leafing through a collection that simply stuck with him. The music perfectly frames the message of having less and living more; of savouring life's simplest pleasures.
Other songs expand the album's sonic spectrum, with the delicate and dulcet "Red Horizon" and "Summer Lovers Autumn Wine" foiling the more plowing and impactful "Best I Never Had" and "2up2beDown," a powerful track with a musical hook and bridge that takes a complete Mitchell-esque left turn but fits perfectly within the song. The upbeat, positive fun of "Georgian Bay" is driven by Joe Hardy's monster bass and interesting horn and piano arrangements, while "Old Marriage Waltz" offers another highlight, wrapping the listener within its gorgeous melodies and slice-of-life lyricism.
"What I like most about these songs is that I see my audience in them," the artist explains. "I think that's very important for songwriters – to explore themes that we all know and go through as people."
Having those stories framed by the unmistakable vocals and fancy fretwork of one of Canada's most celebrated artists only enhances their resonance, and the sheen from one of modern music's most decorated producers is one hell of a finishing touch.
While a good portion of Mitchell's back catalogue is rooted in the high-octane rock that goes from 0-60 in an instant, The Big Fantasize still offers a pretty sweet and sexy ride – just one where the focus is less on what's under the hood and more on life's journey itself.